Effective surveys help you collect valuable feedback from your visitors and allow them to express their ideas and needs. Online surveys allows you to enhance visitor participation that helps to improve your website content. It is a powerful source for collecting necessary data for any of your marketing campaigns. The information that participants provide is vital, and the cost of acquiring this data is very low.
If you are looking for an effective online survey tool, your search ends here.
SurveyFunnelApp is an effective and a convenient online survey tool – that when used correctly can help you gather useful information about your website's visitors. Online survey tool helps you to find out more about your visitors, customers and readers in just a few hours. Your chances to increase conversions multi-fold when you ask the right question at the right time with the right content or offer.
It is an excellent tool for Small and Medium-sized Business (SMBs) to gain insights through well-planned online surveys.
Benefits – Online Survey Tool
– Set start and end date for survey
– Boost your mailing list
– Trigger the survey by clicking on an image.
– Option to pause your ongoing survey anytime you wish and conduct another survey on the same page.
– Ability to export collected data
– Drag and drop funnel questions and rearrange them anytime
– Ability to make jumps to different funnels based on answers
Key Features – Design an Online Survey
Radio Button
A convenient and easy way to get answers from your site visitors
Instant Notification
There is an option to set email notification tab ON. So that, whenever there is a response from your visitors to any of your surveys, you will be notified.
Reporting Dashboard
You can manage all your surveys from the same dashboard. No need to change the tab for different surveys.
Positioning
The left bottom or right bottom, you can select your choice of positions for displaying your surveys.
HTML Content
There is an option to use HTML in the content section for the surveys.
Purpose
You have a freedom to tell your participants about the purpose of conducting surveys.
Non Distractive
Your participants also get an option whether to participate in the survey on not. They can minimize the survey window if they don't want to participate.
Customization
Look and feel of the survey can be customized as per your choice and according to your website's theme.
Conditional Workflow
You can decide which question to ask after a particular answer by the respondent. You can set a conditional workflow of a survey.
Branding
You get an option to use your website's logo in your effective surveys and do the branding of your site.
Other Answer Option
Participants get an option to choose the answer, and if they do not want to answer from the given option, then they go for 'None of the above' option that allows a free-text area to enter their own answers.
Read more at: http://app.surveyfunnel.com/#features
Conduct Online Surveys – Step-by-step Guide
Installing SurveyFunnel+
1. Download the surveyfunnel.zip file from https://wordpress.org/plugins/surveyfunnel/ and unzip it into the plugins folder just by placing it in wp-content/plugins.
2. Go to WordPress Dashboard -> Plugins
3. Activate SurveyFunnel+
4. Go to WordPress Dashboard -> SurveyFunnel+
5. To get your key first you need to register yourself on http://app.surveyfunnel.com
> Register your name and info details along with your valid mail-id.
> Enter your SurveyFunnelApp key received in your inbox.
Use that key to validate your plugin.

6. Go to your SurveyFunnelApp account dashboard.

7. Start adding your own surveys – also known as a Funnel.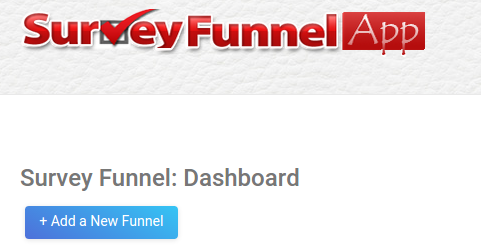 8. Here you can create and customize your own surveys.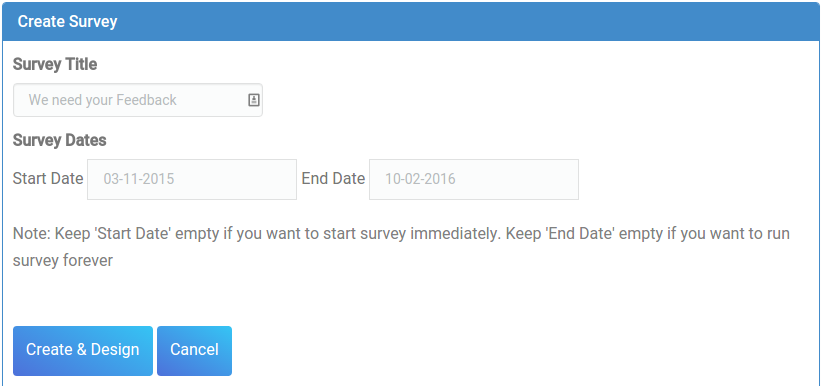 9. Enter your website page URL where you want to display your effective surveys.

10. This is how your survey will look like at the front-end to your visitors.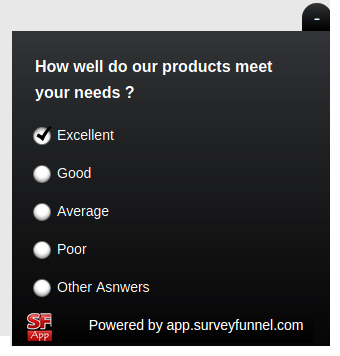 SurveyFunnelApp offers a user-friendly experience for both the site masters and the end users. All you need to do is install, activate and enter your effective survey questions, do the customized settings and you're all set. You can get as advanced or as simple as you want to with SurveyFunenlApp. So, don't look at this tool as survey oriented, it's a tool to sell products to your targeted visitors.
Happy Surveying 🙂